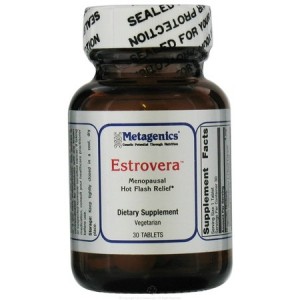 Estrovera is the precise form of Siberian rhubarb root that was recommended by OB/GYN Dr. Wendy Warner on the Dr. Oz Show.
Guarantee: If you are not completely satisfied, return the empty bottle and get your money back 100% with no questions asked.
Estrovera contains the identical formula of Siberian rhubarb root extract, called ERr 731 by researchers, that has been tested and reported in prestigious medical journals such as Menopause and Alternative Therapies In Health and Medicine.
ERr 731, the tested and proven formula for Siberian rhubarb root extract, has until recently only been available through health practitioner's offices and clinics. But now, through a special arrangement, it is available directly to the public as Estrovera by Nutraceutical Research, Inc.
What is in Estrovera?
ONE TABLET SUPPLIES:
Rhapontic Rhubarb (Rheum rhaponticum L.) Root Extract† 4 mg
(containing 2.16 mg rhaponticin)
Other Ingredients: Microcrystalline cellulose, stearic acid, croscarmellose sodium, silica, and enteric coating (deionized water, cellulose acetate phthalate, glycerol triacetate, ammonium hydroxide, hypromellose, maltodextrin, and polyethylene glycol).
How to take Estrovera
It's simple. If you have mild to moderate symptoms start by taking one tablet each morning with a glass of water.  If you have severe symptoms start by taking two or more tablets each morning with breakfast.  That's it. Symptoms will usually begin to improve within 3 weeks.  If you have been taking Estrovera for three weeks without improvement, add another tablet to your daily morning dose.  Continue increasing the dose every two weeks until relief is adequate.
A bottle contains 30 tablets.
How long can I take Estrovera?
Researchers monitored women taking ERr 731, the identical Siberian rhubarb root extract formula in Rhuvera, for two years. Extensive tests during this time period revealed no ill effects or risks associated with this Siberian rhubarb root extract formula.
Are there any side effects from Estrovera?
Women taking ERr 731 (Siberian rhubarb root extract) reported minimal to no side effects as a result of taking it. In one study one woman in 56 complained of vertigo that might have been related to intake of ERr 731. The authors of this study, published in the medical journal Alternative Therapies In Health and Medicine in 2009 reported that "the medication was well tolerated by the majority of women". When questioned in another study, published in Menopause in 2006, women taking ERr 731 48% said it's tolerability was "very good" and 43% said the tolerability was "good".
In concluding their findings on ERr 731, the Menopause study researchers reported "The trial results show that ERr 731 is a highly effective, well-tolerated, and safe herbal medicinal product in the treatment of climacteric complaints in perimenopause."
How much does Estrovera cost?
One bottle containing 30 tablets of Siberian rhubarb root extract (ERr 731) costs $29.95 + a $4.95 shipping / handling fee. Sales tax is applicable for orders from Minnesota (7.275%).
New video reviews recommendations made on the Dr. Oz Show by OB/GYN Dr. Wendy Warner.
[loveclaw_buttons]